Kutch Rann Utsav:
Rann utsav |Rann utsav bookings | Rann utsav packages | Rann utsav kutch | Rann festival.
Tour packages will be somewhere around INR 10,000.
"Stuff your eyes with wonder of Nature, live as if you'd drop dead in ten seconds. See the world. It's more fantastic than any dream made or paid for in factories." – Ray Bradbury
For Surely one of the wonders to stuff your eyes with would be capturing astonishing views of The Great Rann of Kutch. Walking on those crystals of salt that are boundless and watching the sunset and the rising moon, both at the same time is miraculous & Tremendous. Rann reminds you of the incapability you bear in this world.This is Great Rann of Kutch is the biggest salt deserts in the world. A  layer of salt, which is covered by thick sand layer, allows no living beings to sustain on its premises for miles, just the white barren land, and the clear blue sky. . It is not only known for its natural grandeur but also for the famous Rann Utsav.
How to reach
The cheapest way to reach The Great Rann of Kutch from Ahmedabad is to take a train to Bhuj. Then a sharing bus will wait for you to drop you at Dhordo village. Dhordo is around 90 kms from Bhuj. And it is being developed by the Gujarat tourism as the Gateway to the Rann. Dhordo is on the edge of the salt desert. It's more convenient to stay there, or nearby Hodka (17 km from Dhordo).To have a hassle free visit to Great Rann you can opt for a taxi from Bhuj.Visit IRCTC for train bookings.
The closest airport and railway station to reach the Rann of Kutch lie at Bhuj.

Permits Required
The Rann of Kutch Gujarat is a sensitive area, due to its proximity to the Pakistani border. Therefore, you need a permit to visit the Rann. You can get the same on the way at the Bhirandiyara village checkpoint which is around 50 kilometers from Bhuj. The cost is 100 rupees per person and 50 rupees for a car. You'll need to submit a photocopy of your ID and show the originals. You can also obtain the permit from the Gujarat Police DSP office in Bhuj near Jubilee Ground (it's closed on Sundays and every second and fourth Saturday). You need to show the permit at BSF check post to enter the salt desert. You no need to pay anything this is just for knowledge. Your Travel agent will look after about these all things…
Best time to visit
Almost everywhere on the Internet, the best time suggested is between October and March but I strongly recommend you not to visit Rann before December as the water does not dry up completely. It's around mid-December the marshy land is dried up completely and you can step down on the salty Rann. You can also visit the salt desert in April and May though, on a day trip from Bhuj. However, it's very hot during the day.
Note: –Do check for a full moon night over the internet and accordingly plan your itinerary.Check current status on Moongiant.
 Places to stay
You can Stay at Rann utsav tent city & also at white Rann also..White Rann is a small Arrangement near the Tent city this is quite cheap than Rann utsav ….but i would like to suggest you to stay at Rann utsav tent city to enjoy all Activities..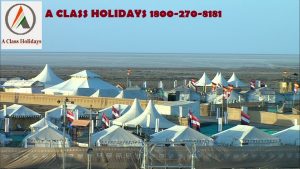 Bhuj
It's a great option to add Bhuj to your itinerary, not only as it is a gateway to Rann of Kutch Gujarat, but the place offers quite a lot. Bhuj is kind of a historical city. It has a long history of kings and empires. Bhuj is most famous for its handicrafts. You can get a variety of clothes and other things having this kind of artwork. Visiting Shree Swaminarayan Temple, Prag Mahal Palace and Aaina Mahal are worthwhile. You should definitely taste Kutchi food when you are in Kutch. The market road in Bhuj is the place to taste street food. You will find a lot of stalls serving Dabeli.For detailed Information on Bhuj refer Wikipedia.
Shree Swaminarayan Temple
Prag mahal Palace Rann utsav |Rann utsav bookings | Rann utsav packages | Rann utsav kutch | Rann festival.
Kutch Museum Rann utsav |Rann utsav bookings | Rann utsav packages | Rann utsav kutch | Rann festival.
The Great Rann of Kutch Gujarat
The Great Rann of Kutch is a vast chunk of salt marshes in the region called Kutch, in the state of Gujarat, India and the Sindh province of Pakistan. It is about 7,505.22 square kilometers (2,897.78 sq.m) in size (much bigger than the individual size of 30 countries) and is reputed to be one of the largest salt deserts in the world. The area was once the shallows of the Arabian Sea before a geological uplift closed off the connection with the sea, leaving behind a vast lake which turns into a salt desert. It turns marshy during the monsoons and then back to its brilliant white glory during the winters and summers.
Camel Ride at Rann of Kutch Gujarat
There are no direct public transports available to reach Rann. I took a mini bus and I reach Hodka in 1.30 hours and from Hodka to Dhordo (19 km) in a shared Taxi.
Every year in the winter months, a tent City is created near Dhordo village called Rann Utsav. With no scope for any agriculture or animal husbandry, locals had almost no source of income and it was very tough for them to sustain. It's been a blessing in disguise that they found out such an ecosystem can be used to develop tourism. Every year tourists from all over the globe visit Kutch to participate in the Great festival called Rann Utsav. It offers access to the true culture of the desert district.You can enjoy the various music concerts, Sindhi Bhajans, and Langa Desert Music.
For more details, you can check Gujarat tourism official website.
Stay options in Rann
Stay options in Rann of Kutch Gujarat
Just before the entrance to the salt desert, you will find a BSF check post where you need to show the permits. The officer on duty at that time was very friendly and I had a good long chat with him and we became good friends soon. Seeing me travel alone, he asked a local to drop me to the salt desert which was around 4 km from check post.

BSF check post
Wowww!!! Just the feeling I had my first glimpse of the white land. It looked so surreal. To put an end to all the questions about the salt I had over the years, I tasted it and to my surprise, it had almost the same savor and aroma.Yeah more dirty, though.
I was so busy in capturing the breathtaking views of the endless white land, that I couldn't realize how quickly the time had passed. It was now the time for the sunset glimpse.Splendid!!! I am short of words to describe such a view. The whole sky turned into an orange color.
Sunset view at Rann of Kutch Gujarat
Under the moon and over the white salt, the feeling of the immense endlessness of whiteness will leave you stunned. As I lay down, I could witness an infinite black sky with more stars than I had ever seen in my entire life.
The Great Rann of Kutch Gujarat
The Rann of Kutch Gujarat is a place that needs time and due to lack of time, I could not visit 2 highly recommended places that are Kala Dungar (offers a panoramic view of Rann from 458 meters above sea level) and India Bridge (the last civilian point for Indians). Also as stay options were quite expensive in Rann, I decided to return to Bhuj. After capturing some best moments of my life, I headed toward the BSF check post where my newly made army friends helped me to board a bus which was going all the way to Bhuj.
To read more refer Great Rann of Kutch Wikipedia.
Always nice to click photos of Locals
Mandvi Beach and Vijay Vilas Palace
The next day plan was to leave early in the morning and visit Mandvi Beach and Vijay Vilas Palace. I decided to stay overnight at the station itself as there was no worth finding a hotel for 4-5 hours.
After having spent a mesmerizing day at Rann of Kutch Gujarat, the journey had still something great to follow. The beach is huge, clean and empty and one can walk for miles. The water here is calm and shallow that one can walk into the water for quite a distance. And the water will still be below the waist. Vijay Vilas Palace is another 7 Km from the beach.
Mandvi Beach
Mandvi Beach Gujarat
Rann utsav |Rann utsav bookings | Rann utsav packages | Rann utsav kutch | Rann festival.
Get In touch with us: